COMMERCIAL SECURITY SYSTEMS
Commercial security systems can be tailored to a wide range of premises and applications and prices vary correspondingly. Here you can find a system of the most basic elements with current price not including installation. We can always offer options for optimizing buildings' security and fire safety.
ELK SECURITY SYSTEM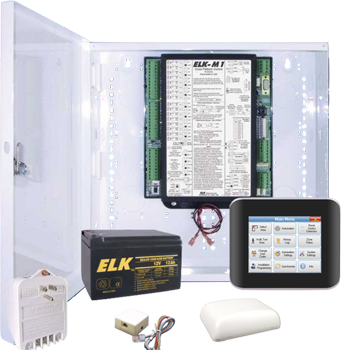 - ELK M1 GOLD panel with remote access and a large selection of keypads
- Possibility to integrate  with  lighting and thermostats
- Savant home automation ready
- Large selection of keypads
- Flood monitoring allows for shutting down the water pipes
- 1 Wireless Keychain Remote
- 1 PIR Motion Sensor (Pet Immune up to 80lb.)
- 3 Contact Sensors: can be used on either doors or window opening
- FIRST MONTH FREE monitoring ($35 a month after first month for 11 months and $40 a month after 11 months)
Price TBD upon a free site visit
CUSTOM OPTION
We offer professional assistance in designing security systems for our customers' specific needs and applications. Please contact us and we will answer your questions. At any time convenient, our experts will schedule a walkthrough at your house or facilities for a free installation estimate.