Advantages of having surveillance system installed are obvious. You witness any possible events as well as have security cameras, which act as visible deterrent to burglars or any unwanted intruders. Installing surveillance systems is protecting your property or business by using the simplest and the most efficient tool of today's life.
Once you have made a decision to install surveillance system you will need a professional installation company to help you make the right choice. We provide and install camera systems of several manufacturers at their best price possible on the market. It is of our interest to monitor the market for any new product and be flexible and valuable for every customer. Our certified installers have been trained to ensure easy installation and surveillance system set up both for home or business purposes. We make thorough free estimate of your premises or home to provide you with 24/7 video footage of every inch of your property, from recessed corners to vast exterior. We make detailed recommendation on type of the product you may need out of a wide range of CCTV cameras that we offer. We ensure that there is always an option suitable for every budget. At DNY Security, we believe that the installation of surveillance system and the product itself are equally important. We help choose the right product and properly install the system to ensure its reliable and correct operation.
HOME SECURITY CAMERAS
Capabilities of cameras differ depending on their function and environmental condition. As we have installed quite a number of cameras for home and building owners, we may say that most of these customers choose simplicity and attractive design rather than higher resolution sensors or zoom features. We offer cameras of neat and discreet design, which can both suit well your office or home interior and operate at full capacity. Out of large selection of cameras on the market, we help choose exactly what our customer needs. There are factors of view options, connectivity, cloud storage and price, which have to be considered together with aesthetics. We help you define the product, offer professional installation and make sure our customers learn well how to use the system easily and for their benefit.
BUSINESS SECURITY CAMERAS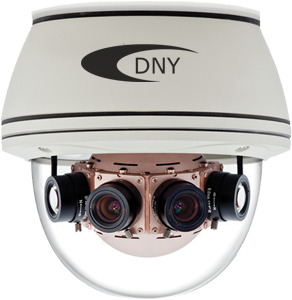 Depending on the scope of your business, we tailor security level to a specific business category, from small retailors to large corporations. Business security cameras come in a variety of sizes and features. CCTV cameras for business have longer night vision distance, higher resolution sensors, wider field of view and greater processing power. We can offer CCTV business cameras with variable or fixed zoom lens capable of capturing facial details from up to 140ft away. Pan Tilt Zoom Cameras are best for retail stores, malls or airports as they are equipped with motorized unit that can rotate the camera in 360 degrees and zoom objects with motorized lens. For industries with outdoor security systems cameras should be built of metal and withstand direct contact with water, rain, snow, sand and resist extreme temperatures. Professional installers of DNY Security will consult you on every essential key point for your particular security system scheme for your business.