There are people who prefer audio intercom systems to any security video systems. Quite often the reasons are simplicity of application and moderate budget of the first ones. Homeowners are just satisfied with an ability to talk with the help of simple, inexpensive and reliable device. At DNY Security we advise products of impeccable performance manufactured by Aiphone and Comelit companies. Below you can see two models of cost-effective top quality audio intercom systems . The first one is a bestseller for a single-family house, of pleasant modern design and simple in usage. The second option is perfect audio intercom installation for a multi-apartment building. Please give us a call if you have questions regarding anything about audio intercom systems.
SINGLE FAMILY AUDIO INTERCOM OPTION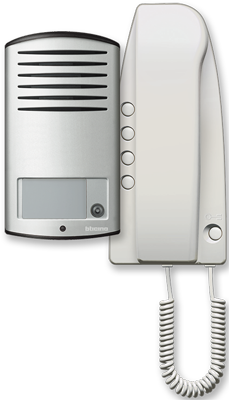 - Traditional Audio Intercom System
- Audio Headset
- Outdoor unit with a call button
- Selected door strike for one door
- This option includes Installation and Training
30 APARTMENTS BUILDING AUDIO INTERCOM OPTION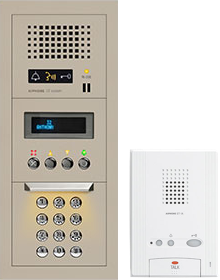 - Elegant design
- 30 Audio Indor Stations
- Scrollable tenants list
- Selected door strike for one door
- 3 button indoor stations
Price TBD upon a free site visit
CUSTOM OPTION
As professional audio intercom installers we take into account every personal need of our customers. We understand that you may want something different from what we currently offer here. We will answer all your questions and schedule a walkthrough your site to make a free estimate. If you look for a personalized assistance and want to discuss a design for your specific application we are ready to help. We guarantee efficient positioning and performance of audio intercom systems we install. Out of all products available at the market, we help you choose the best solution to ensure fair balance of quality and budget. Please contact us and get extensive information from our experts.