In DNY Security we focus on customer satisfaction and delivering the most sophisticated product available today. Completing projects quickly and efficiently is our company's main priority. We try to stand out from other companies by delivering a top notch customer service and guarantee attending to your needs with in a 24 hour time frame.
We offer the most reliable monitoring service in the country. Our around the clock monitoring service offers immediate responses, immediate notifications and custom logs which are available automatically or on demand to keep for your records or to present them to the authorities. Our basic monitoring services start at the rates shown below. Security Systems Monitoring: $40 billed monthly Security and Fire Systems Monitoring: $55 billed monthly If GSM monitoring is required it will result in additional $15 per month.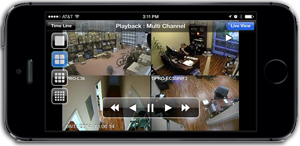 Whether it is a new system or an old one, it needs maintenance and/or minor repairs from time to time. The service calls can get costly and in some cases yield a very little result, which may cause additional service calls, therefore even more wasted money. If the system has been purchased and installed by us you have an opportunity to sign up for an optional maintenance service contract with us. Maintenance service is billed on monthly basis and takes care of ALL issues that might arise with the system. We will repair, maintain or modify your equipment free of service call charges and without charges for most of the materials. Below you will find our price list for such services. 
Tier 1: 3% of total covered equipment cost up to $5000 billed monthly
Tier 2: 2% of total covered equipment cost from $5001 to $10,000 billed monthly 
Tier 3: 1% of total covered equipment cost from $10,001 and up billed monthly
There are cases when your system is out of warranty, you do not have a maintenance contract or you are just tired of your current security company. But, your system is down and needs urgent repairs. We will gladly take care of all of your repair needs. We will send you a tech within 24 hours, the same day even on most days. Our team of professionals will determine and eliminate the problem quickly and efficiently.  Below you will find our current service calls prices. Please feel free to give us a call if you need additional info
Basic one person Service Call includes 2 hours for $280.00
Additional Service Call Hours at $90/hour above the included 2 hours
Basic two person Service Call includes 2 hours $400.00
Additional two person Service Call Hours at $165/hour above the included 2 hours
Additional to above is the cost of the materials. This is calculated at our actual cost plus 25% markup for the materials only.
Please note: Emergency hours start from 5pm to 7am and prices differ.